Why Your Organization Should Close in Celebration of Juneteenth was originally published on uConnect External Content.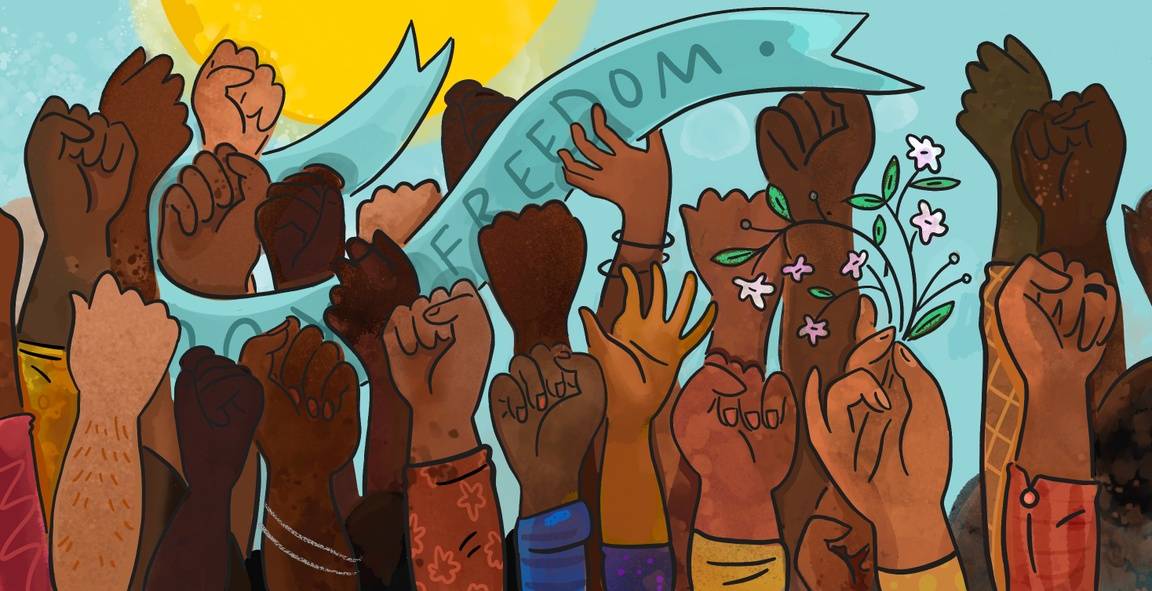 Illustration by Marian Blair
Alongside a growing number of employers across the country, the Idealist office is closed on Monday, June 19 in celebration of Juneteenth, which commemorates the official ending of slavery in the United States on June 19th, 1865.
By halting our own operations for the day, we are joining employers around the U.S. in taking time to reflect on our past and take action for a better future. We strongly believe that nonprofit organizations, public institutions, and private companies alike all have a role to play in helping to honor the importance of Juneteenth in our country.
Why celebrate Juneteenth?
On this day in 1865, Texas became the last state to declare an end to slavery. While the Emancipation Proclamation had come into effect in 1863, it took more than two years for it to be enforced in Texas, the most remote slave state in the union. Today, Juneteenth is the oldest nationally celebrated commemoration of the ending of slavery in the U.S.
The day has long been celebrated by many communities across the country, but was only recognized as a national holiday in 2021 when President Biden signed the Juneteenth National Independence Day Act. While marking the holiday is an important part of recognizing the impact of slavery in the U.S. and celebrating the achievements of African Americans, there are many working professionals who are not given the opportunity to enjoy the day off work.
Prior to 2021, nonprofit organizations, politicians, athletes, companies, and public figures across the United States called on lawmakers to make Juneteenth a national holiday for years. Among those fighting for Juneteenth's national recognition was the San Francisco-based creative collective, Hella Creative, which launched the Hella Juneteenth campaign in 2020.
Here is what the Hella Creative team had to say about demanding the day have the same status as other federal holidays:
"Most Americans are familiar with the historical significance of July 4th, 1776. We celebrate gaining our independence and declaring ourselves free from British rule. Though the Declaration of Independence declared that all men were created equal, and endowed with unalienable Rights, these freedoms were never extended to African Americans until 1865. Systemic racism continues to deprive, harm, and murder with impunity. Even presently, life, liberty, and the pursuit of happiness still feel denied to Black America. As this year marks the 155th year since the final slaves were freed, it's time for historical steps forward."
Urge your employer to observe Juneteenth
Even though the federal government is now on board, there are still countless organizations that do not mark Juneteenth as a paid holiday for staff. In addition, only 28 states legally recognize Juneteenth as a public holiday.
If your employer is one that did not make the decision to celebrate Juneteenth this year, that means you have a whole year ahead of you to make the case. Here are some suggestions to get started:
Stress the significance of Juneteenth: Educate yourself on why Juneteenth is an important day for the United States, particularly as the country recognizes the impact of slavery on the Black community. Then, work with others at your organization to figure out how it can best honor Juneteenth, whether it is by supporting Black businesses, providing a day off for staff to celebrate and reflect, or organizing donations to a related cause.
Get your co-workers on board: It will be harder for your employer to put your request on the back burner if multiple people speak out. Join voices with colleagues to make your message heard.
Work to achieve an equitable, inclusive society all year long: Taking Juneteenth off is a great gesture of solidarity, but fighting for equity and racial justice is an "all the time" effort. We cannot underestimate the importance of educating ourselves and taking meaningful action both in the workplace and outside of it.
Additional resources for celebration, action, and education
***
Searching for more ways to enact social justice at your organization? Find out how you can address implicit bias in your workplace.