What can I do with a PhD?
A lot, depending on what you want! Although many PhDs enter academic careers, many more have pursued a range of fulfilling and meaningful careers beyond academia. Whether you're preparing for a faculty position or looking to find what other career options are out there, it's important to spend time to understand yourself, your values, and what skills and interests you have before diving into a job search. After all, you want to make sure that whatever job or career you pursue will be one that you find satisfying, rewarding, and challenging!
Having the skills and confidence to navigate all aspects of your job search successfully is essential for your career development. Career Services is here to support you throughout this process, from helping you present yourself well both on paper and in person to potential employers to equipping you with the knowledge and strategies to help you land your job offer. We advise PhD students and postdocs to follow a 4-step career exploration and planning process to help them find a meaningful career. Click on the steps below to get started.
Reflect and Explore Options
Taking time to reflect on and understand your work values, skills, and interests allows you to pursue a career that is meaningful, challenging, and rewarding before you launch into a job search. This provides a solid foundation for your next steps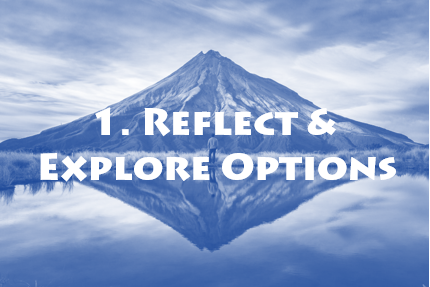 Network and Gather Information
Networking is simply talking and building relationships with professionals in careers that interest you to help you learn what it's like to work in a particular role, field, or industry. Think of it as talking with people to research and gather information about careers.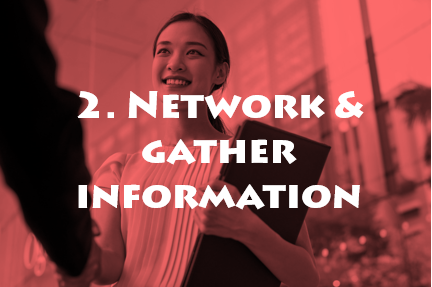 Take Action and Make Decisions
Once you've spent time reflecting, exploring, networking, and gaining experience to prepare for your future career, you'll be ready to take action and make decisions about your post-PhD professional life. Career Services is here to support you throughout this process, and so feel free to reach out to us at any time with your career-related questions.
On the academic job market?
Career Services can give you advice on all your application materials (see our resources here) and perspectives on how to tailor your application to specific kinds of academic institutions, and help you to speak about your research and teaching in interviews. Once you have received a job offer, we are also happy to guide you through negotiations.
Faculty Job Search Prep Camp 2023
If you are or will be on a faculty job market, join Penn Career Services for our Faculty Job Search Prep Camp, done in partnership with the Center for Teaching & Learning (CTL) and the Grad Center. Through workshops and faculty/alumni panels, we'll help you understand how you can best prepare for each step of the process, from exploration to crafting application materials and beyond! Click here for more details.